School nutrition program funding is increasing to $18.5 million with a new grant for non-profits to pilot better delivery of the program in partnership with schools.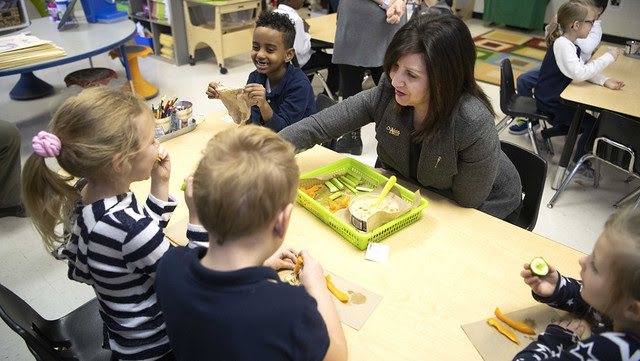 The budget boost of $3 million, or 20 per cent, will enable non-profits to partner with school authorities on piloting innovative ways to reduce operating costs and the administrative burden on schools, while ensuring students receive quality meals.
"We know good nutrition has a positive impact on student learning. That's why we are looking to improve the efficiency of the school nutrition program by tapping into non-profit organizations that are knowledgeable, innovative and best positioned to address documented challenges such as program coordination, staffing, food procurement and food quality."Adriana LaGrange, Minister of Education
"Edmonton Catholic Schools values all community partnerships and this announcement reaffirms the importance of communities working together. Numerous non-profit organizations provide nutritious food to students every day and this announcement strengthens these partnerships while giving students the opportunity to be successful in the classroom."Laura Thibert, board chair, Edmonton Catholic Schools
"The school nutrition program is more than just lunch – e4c employs family members and members of the school community to prepare and serve food on a daily basis, strengthening financial resources for families and their children. Students build cooperation, problem-solving skills and friendships through volunteer efforts with the program. e4c continues to offer nutritional supports in 41 Edmonton-area schools, making healthy food a priority for over 10,000 Edmonton students. e4c recognizes and thanks the support of the Alberta government and Alberta Education for recognizing the importance of nutritional supports for children, setting them up for continued success on their educational journey."Barb Spencer, CEO, e4c
"We believe every child, who would otherwise go hungry, needs to be fed because hungry kids don't reach their full potential. BB4CK connects and inspires people to take meaningful action to feed and care for kids in their community. We believe that communities have the capacity to create sustainable programs to feed and care for kids. When kids get the food they need, they can grow, learn, build better mental health and thrive. Feeding kids is one of the most impactful ways we can care for them."Tanya Koshowski, executive director, Brown Bagging for Calgary's Kids
"Our vision is to eliminate homelessness and reduce poverty where we serve. One of the ways we do this is by providing 380 lunches each school day which contributes to food security and nutrition for our most vulnerable students. Each week across 35 schools, over 1,900 lunches are delivered by volunteers from The Mustard Seed in Red Deer. Unfortunately, many of our most vulnerable students today come to school hungry, and we know that they cannot comprehend and learn without proper nutrition. The School Lunch Program at The Mustard Seed is a valuable asset to our most vulnerable families, which is made possible by generous support from the community and the school nutrition program."Byron Bradley, managing director – Central Alberta, The Mustard Seed
In addition to the new $3-million grant to non-profits, the government has maintained $15.5 million in funding for the school nutrition program for the 2019-20 school year. About 35,000 students are continuing to receive a daily nutritious meal through this program.
Alberta Education will engage with school authorities and experienced non-profits in urban, rural and 'rurban' communities about the pilot program. Non-profits interested in applying for the grant can submit a proposal to Alberta Education.
Quick facts
The school nutrition program was created in 2016 to help school authorities establish nutrition programs or enhance existing nutrition programs in their schools.
There are 62 public, separate and francophone school authorities (including two Lloydminster boards) taking part in the school nutrition program.
Northland School Division is not participating, as it already has a school nutrition program in place in each of its kindergarten to Grade 12 schools.
Thirty seven of the 62 school boards participating in the school nutrition program are collaborating with community partners and non-profits.
Of the non-profits involved, the majority enhance funding to schools through donations. Some assist schools with in-kind services, and a few, predominantly in urban areas, prepare and deliver meals to students.
The pilot's findings will help inform school nutrition program enhancements for subsequent years. The results will provide guidance to government on the capacity of non-profits to assume management and operation of school nutrition programs across the province.
Non-profits that have demonstrated the ability to provide nutritional food in collaboration with community partners and/or school authorities are invited to apply for a grant under the pilot program.
Related information