The Government of Alberta is partnering with the Canadian Football League, Calgary Stampeders and local organizations to give kids the chance to see the Grey Cup game.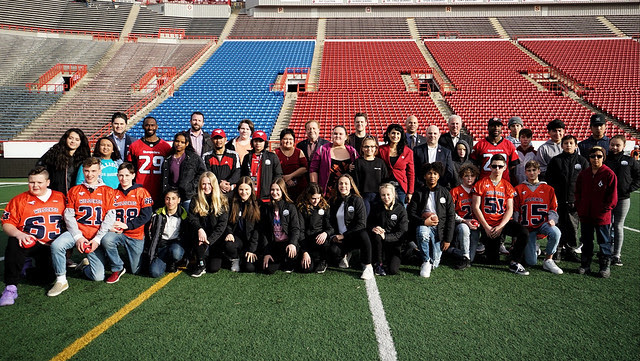 Minister of Culture, Multiculturalism and Status of Women Leela Sharon Aheer, Calgary Stampeders players and alumni gave 50 tickets to young Albertans for the 107th Grey Cup game in Calgary. These youth were selected by organizations that support vulnerable youth from Indigenous, marginalized and newcomer families.
"Through this partnership with the CFL and Calgary Stampeders, we are giving these kids a once-in-a-lifetime opportunity to meet their heroes. It's a great opportunity to inspire youth to pursue their passions and live active lifestyles."Leela Sharon Aheer, Minister of Culture, Multiculturalism and Status of Women
"We're very grateful to the Government of Alberta and the Canadian Football League for the partnership that made this donation possible. Helping and connecting with youth is very important to all of us with the Calgary Stampeders and we know these 50 kids will thoroughly enjoy their day, the 107th Grey Cup."Mike Franco, festival chair, 2019 Grey Cup
"When we take youth out to events and field trips, we realize that for many of them, being able to leave their community is a luxury. These opportunities fan the flame of inspiration and encourage the pursuit of expression and greatness. For these youth, going to the Grey Cup in their own city is a big deal. Meeting the players is a big deal. Most importantly, they learn that someone believes in them. That's a big deal."Jeff Gray, executive director, Cornerstone Youth Centre
"The young girls from Fast and Female have all experienced the power of sport to make them more resilient, confident leaders and teammates, both on and off the playing field. Through Fast and Female, girls can connect with other girls across the city and across all disciplines to set goals and take on new challenges. It is a privilege for them to witness and experience the energy of this iconic, 107-year-old Canadian sporting event."Michelle Purdie, mother and volunteer, Fast and Female
Youth organizations
The Centre for Newcomers is a key resource for immigrants in Calgary. Through the Real Me program, the centre supports at-risk youth with counselling, mentoring and community activities.
Metis Calgary Family Services provides responsive, community-based services for the urban Aboriginal community.
Fast and Female Canada hosts non-competitive, fun-filled events that introduce girls aged 8-14 to athlete role models.
The Cornerstone Youth Centre is a grassroots non-profit organization that teaches youth life skills and prepares them for success.
Calgary Bantam Football Association is a football league for youth aged 13-15 which teaches them sportsmanship, teamwork, exercise and leadership skills.
Calgary PeeWee Football Association is a football league for children aged 10-12 which fosters a love of the sport.
Big Brothers Big Sisters of Calgary and Area matches children and youth facing adversity with caring volunteers who provide guidance and support.
Boys & Girls Club of Calgary provides safe places where kids can develop confidence and gain skills so they can achieve their full potential.
Quick facts
The Government of Alberta received the tickets as a part of its investment to help bring the Grey Cup Festival to Calgary.
Related information