Christmas and the holiday are a great opportunity to feature the many amazing food products that are grown and raised here in Alberta.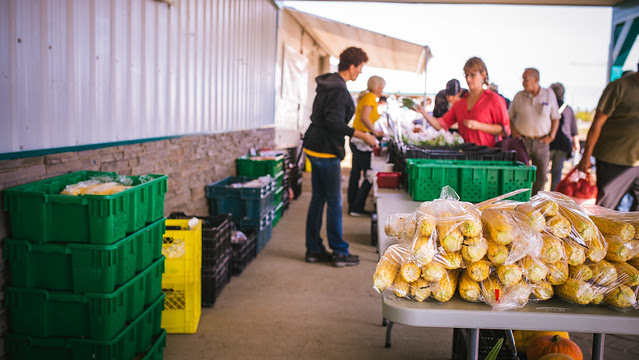 Alberta's diverse agriculture and food sector offers an array of choices for families to enjoy. From stuffed turkeys and mashed potatoes to beer and pies, there is an Alberta-made product available to satisfy any appetite.
Farm-to-market and more
There are more than 140 approved farmers markets across the province, where consumers have the opportunity to get fresh, nutritious food products while supporting local farmers and communities.
Many retailers and restaurants also feature locally sourced food. There has been a steady increase in the number and range of food products made with Alberta-grown ingredients. With sales surpassing $15 billion last year, food and beverage manufacturing has become the second largest industry in Alberta.
"Any time of the year is the right time for local food. Our farmers, producers and processors provide high-quality and safe food every day in Alberta. The local food sector helps support our family farms and helps foster opportunities that diversify our economy. I'm thrilled to hear many Albertans are choosing to host 'Alberta-made parties' this year."Devin Dreeshen, Minister of Agriculture and Forestry
"Alberta local food is about feeding your family the best of the best. Consumers want to know where their food comes from and the standards by which it has been made, baked or grown. Many Alberta local food products are available year-round at farmers markets, on-farm, through community-supported agriculture weekly boxes, online, in restaurants and in retail grocery stores. This holiday season, put some local on your plate."Willard de Wilde, president, Alberta Farm Fresh Producers Association
Local food sales from farmers markets and through direct-to-consumer channels have more than doubled since 2008 and now exceed $1 billion.
The local food sector creates innovative small business opportunities for producers and processors, connects rural and urban communities, and is a vital contributor to grow Alberta's economy.
Quick facts
Food and beverage manufacturing is the second largest manufacturing industry in Alberta and is the largest manufacturing employer in the province, employing 23,600 Albertans in 2018.
In Alberta, local food sales in direct-to-consumer channels (farmers markets and farm retail) have more than doubled since 2008, and exceeded $1 billion in the last year.
Alberta has a vibrant farmers market sector with more than 140 Alberta approved farmers markets.
Farmers markets, community-supported agriculture, community gardens, craft breweries and distilleries, local agricultural societies and Alberta Open Farm Days events are just some of the places Albertans can go to find more information about local foods.
Related information